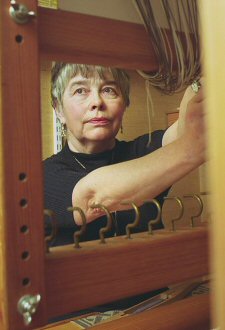 I was born 1942 in Arvidsjaur in the inland of Lapland, in a family of partly Sami and Finnish origin. I grew up in northern Sweden close to untouched forests and water, and from early years had a great interest in textile handicraft, history and botany. Literature on these topics was, and remains, an essential part of my life.
Weaving is incorporated in my life since childhood and I have developed my skill by courses and literary studies.
From 1973 on I live in Mälaröarna where I have been engaged as a instructor in textile handcrafts.
Since 1995, when I moved to Adelsö, I have dedicated my work to textile design and production of textiles for home and the church in my company Vävidé.
I find inspiration from ornaments in archeological findings from the nearby World Heritage site Birka-Hovgården.
My love for the mountains and the archipelago allows me ample possibility to watch the ever-present changes in nature.
The Sami cultural heritage from my northerly area of birth also has a strong influence on my designs.
Throughout the years, I have been represented at several exhibitions, but the main portion of my production is custom made and can mostly be found in various churches in the Stockholm diocese and in private homes. During this spring (2014) I have mounted an exhibition of damask works at the Galleri 125Kvadrat in Stockholm.