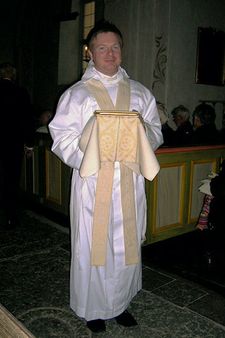 I design and weave liturgical textiles, i.e. copes, chasubles and altar frontals etc for parishes and churches. Between 1997 and 2011 I have delivered larger and smaller pieces to, amongst others, the Ansgar Chapel at the Birka World Heritage site, Ekerö parish, Tyresö parish churches and clergy within the Stockholm diocese.
Before I draft a proposition for a work, I visit the church, listen to people from the congregation, and study the history of the surroundings and church.
I work mostly in damask techniques with yarns of linen and wool, but I also use silk and various metals and also leather for appliqué.