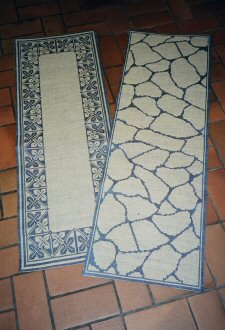 Given the techniques I have in my repertoire, I have great freedom to vary the patterns and materials in the fabric. I prefer strict geometrical compositions before more traditional damask patterns (such as flower motifs in white-on-white on tablecloth).
With my damask designs, I have created a collection of placemats and textiles for the table in varying colours and sizes. The material is a modern, slightly rugged in appearance, fabric as well suited to stoneware as china.
Pillows in Sheepskin/broadcloth, hand-woven damask/broadcloth or reindeer leather/woollens are another one of my specialities.
I also weave shawls and blankets in various techniques and patterns, sometimes with yarn made from locally produced wool. I also on occasion do purely decorative pieces for hanging on the wall.
Among my customers are counties, art clubs, home design companies and private enterprises, using the products as gifts.