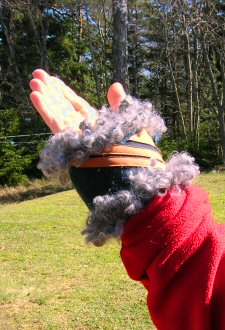 A collection of wrist warmers and muffs made of sheepskin combined with cloth and leather is included in my production since 2006. I also use other furs in my work including racoon and opossum.
Exclusive neck- and chest warmers in cloth and fleece with applique work in reindeer leather can be ordered to specification.
In my production you can also find a Hnefatavl and Merels game from viking/medieval times with game pieces and rules included.
I also make hand-woven fabrics for historical clothing and archeological reconstructions in cooperation with Kompani Bastard to, amongst others, the Swedish Historical Museum. Care for your own Viking outfit?